By James Balowski
Papuan activists has raised almost US$52,000 to repay a government-sponsored scholarship received by activist and human rights lawyer Veronica Koman after the Indonesian government demanded that she return the money, which she described as "financial punishment" for her West Papua advocacy work.
The Papuan People's Solidarity Team went to the Finance Ministry's Endowment Fund for Education (LPDP) in Central Jakarta on Wednesday September 16 wearing traditional Papuan attire to symbolically handed over 3 million rupiah in cash along with an Indonesian flag, a copy of the West Papuan Special Autonomy Law and a receipt for the rest of the money – which was sent to the LPDP by bank transfer.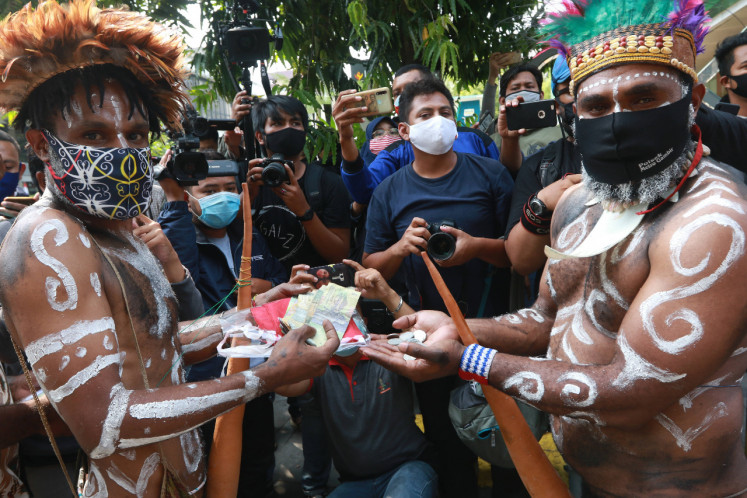 Security guards however refused to allow them in saying nobody was at the office due to a partial-lockdown to curb the spread of the corona virus which has been in force in Jakarta since Monday.
"I feel disappointed with the LPDP office, we sent them a letter on September 15. They didn't responded to us when we arrived on the grounds that the office is closed", Papuan human rights lawyer Michael Himan told journalists.
Although the symbolic handover was unable to take place, Himan emphasised that the money had been repaid in full and sent to the LPDP by bank transfer. "This is a symbolic handover of 3 million rupiah from the Papuan mama-mama [traditional Papuan women traders] that they sent to us", he said.
Himan added that they would wait until the LPDP office opens to deliver the money. "We won't use it because it's from the ordinary people. We will definitely return, when the office is open we'll come back", he told CNN Indonesia.
Solidarity Team member and recently released Papuan political prisoner Ambrosius Mulait – one of Jakarta Six imprisoned for treason against the state in April – said that they have been raising funds since August as an act of solidarity with Koman.
"Veronica is one of the people who have been [most] vocal in advocating Papuan issues, but because of her political stand and advocacy the government has asked her to return her scholarship. Meaning that indirectly the government has no interest in resolving the Papua problem", Mulait told CNN Indonesia.
The fundraising campaign was launched on August 12, a day after Koman announced on Twitter that the government had demanded she repay a 773.8 million rupiah (US$51,900) scholarship for a master's degree in Law at the Australian National University in 2016.
The LPDP made the claim on the grounds that she had failed to return home to Indonesia after completing her studies, as required for scholarship recipients.
Koman refutes this noting that she returned in 2018 to join the Jayapura-based Human Rights Lawyers Association for Papua and also provided pro-bono legal services to Papuan activists in three separate trials in Timika, Papua, from April to May 2019. The LPDP however insisted this did not count as she had not yet graduated when she returned to the country.
Koman – who referred to the demand as a "financial punishment" – said the government was using it to pressure her to stop speaking out about and advocating human rights in Papua.
"The Indonesian government is applying this financial punishment as the latest attempt to pressure me into stopping my advocacy for human rights in Papua", she told CNN Indonesia.
Amnesty International slammed the decision calling on the Indonesian government to protect human rights defenders instead of punishing them. "Instead of imposing a punishment, the Indonesian government should support Vero's (Koman's) effort to expose alleged human violations in Papua", said Amnesty International Indonesia Executive Director Usman Hamid.
Hamid noted that many Indonesian scholarship recipients fail to return home after completing their studies but have not be subject to similar sanctions.
The Jakarta Post reported that fundraising campaigns were held in several parts of Papua including Jayapura, Nabire, Dogiyai and Wamena, with local Papuans hitting markets, street corners and social media to ask for donations.
Photos on social media showed Papuans sitting in an open field with donated banknotes scattered on a mat. Mulait said Papuans from other regions and communities outside the province also contributed.
In some parts of Papua solidarity actions were forcibly broken up by police. "Papuan donors in Jayapura and Nabire were disbanded by the authorities, while the solidarity action in Dogiyai and Wamena went well", he told the Post.
It remains unclear if the government will accept the donations as payment. Suara.com quoted the LPDP a saying Thursday that it had received an email from Koman advising them of the payment but would have to study and verify the transfer first.
Speaking from Australia – where she has been in forced exile since September 2019 after Indonesian police placed her on a wanted person's list on trumped up charges of spreading misinformation and provoking unrest in Papua – Koman said that she now feels that her scholarship was paid for by the Papuan people, not the Indonesian government.
"I am very moved and thankful. With this I want to emphasise that it means that my scholarship was not paid for by the Indonesian government but rather by the Papuan people", Koman told Suara.com.
Koman said that the solidarity shown by the Papuan people has inspired her to continue dedicating herself to fighting for human rights in Papuan.
"I feel very moved. Initially I felt down because of the non-stop persecution which has disrupted [my] advocacy work. But this persecution has actually given me an opportunity to see that in fact my work is appreciated", Koman told Tirto.id.
She added that despite the many people who have accused her of being a traitor, "It turns out that I did the right thing in the eyes of most ordinary Papuan people".
[For the latest news and information on West Papua and Indonesia visit Indoleft and the Asia Pacific Solidarity website.]